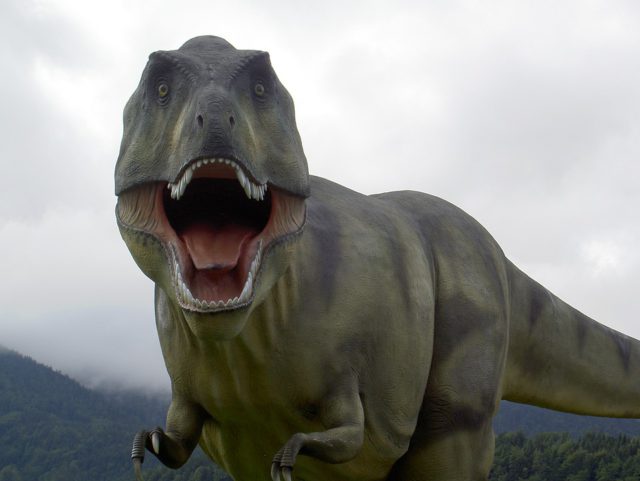 Hello Time Travel Fans
The Time Travel concept has been an inspiration for many writers and film makers over many years. Here I want to tell you about an amazing science-fiction story named A Sound Of Thunder By Ray Bradbury. The story was first published in 1952 in Collier's magazine and again in 1953 in The Golden Apples Of The Sun from Bradbury's Collection.
Later in 2005, the story was adapted into a movie starring Ben Kingsley, Edward Burns and Catherine McCormack.
A Sound Of Thunder By Ray Bradbury
The story takes us into the year 2055. In this year, time travel finally becomes possible and available to the public. The company 'Time Safari Inc' gives the people this opportunity (of course to a high price) to go back in time and hunt
Dinosaurs.
Eckels, a rich hunter pays the amount of 10,000 Dollars to travel back in time 66 million years to the Late Cretaceous Period to join a hunting party. The intention is to kill a Tynossaurus Rex, one of the largest Dinosaur species.
While they wait to start their journey, the hunters comment about the latest elections where the fascist candidate Deutscher is defeated by Keith a moderate politician.
So the journey stars. Arriving to the past, the guide (Travis and his assistant Lesperance) warn the hunters, Eckels, Kramer and Billings to not change any events in the past because this could lead to catastrophic changes in world history. The hunters must not disturb the environment by staying on a levitating path. Not respecting these rules will result in them being fined.
Time Safari Inc, to be sure that nothing will happen, selected before the prey that would have died anyway in the very near future. With this, there would be a minimal change in the Universe.
In the beginning, Eckels is very brave but when he actually sees the Tynossaurus Rex he panics. Travis tells him to return to the time machine. Eckels steps off the levitating path and starts running into the forest. When he returns, the two guides have killed the T Rex.
A few minutes after a tree falls on the Dinosaur. This is how the T Rex was to die (as it should have been).
Travis is furious at Eckels because he stepped off the levitating path and tells him if he doesn't remove the fired bullets from the dead T Rex he will leave him in the past. Eckels does as he is told but Travis is still very angry and he threatens to shoot him.
Has Eckels changed the future by stepping off the levitating path? Are there any effects?
Once back in present time, he sees on the sole of his boot a dead butterfly.
Personally I really enjoyed the story and I strongly recommended it to you if you like time travel books.
So if you are interested in more novels you are welcome to click here and have a look:)