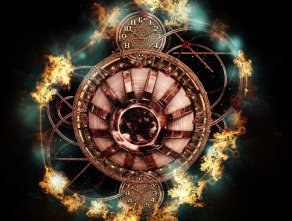 Time travel in the past, parallel worlds….time loops. We heard about this but actually what is a time loop?
A time loop is a phenomenon when some periods of time are repeated and re-experiences by somebody. The person trapped in a time loop is trying to break out this cycle. So…More simple are some events that happen, again and again, many times. They can be forever, infinite or the cycle can be broken. A time loop can be started at a certain moment, event, and somebody's death.We see it in many sci-fi movies also and we love it 🙂 Who didn't see The Looper?:)
How can this happen?
I will give you an explanation as simple as I can. We know that light can bend space-time fabric and gravity. When this happen and space-time is bent, two points get merged and they are only one point.Like this, we will have a loop. But there is a problem. Only black holes have the power to bend so much the space-time, light doesn't.
We know it is not easy to create a wormhole and it is not yes possible but what if nature gives us one? what if one appear in a certain place?
There is a theory that laser beams can bend space-time fabric to this point but everything is just in theory until now.
 A real story?
I don't know if you have heard about the story of the 23 years old British young man which was trapped for 8 years in a time loop? He dropped out the University because of this continuous deja-vu.
This boy didn't want anymore to see tv or read newspapers because he said he knew everything. Doctors were shocked because they didn't find any sign of a neurological condition.
The conclusion was that panic attacks could start this phenomenon.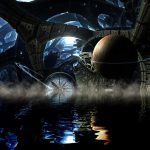 A psychology expert, Dr. Christine Wells said that this is the first case when a person is experiencing déjà vu continuously (for 8 years). The patient had many psychological tests and brain scans and they didn't find any major problem. He started to have this déjà vu from 2007 when going at the university. He had an anxiety for germs, fear, and he started to wash his hands very often. After a while, he took a break from his studies. Then, everything started.
In the beginning, the episodes lasted only for a few moments, later longer and longer. He claimed that was very frightening. In 2007 he returned to the university and the déjà vu feelings start to be very strong. He claimed that he was trapped in a 'time loop'.
Once in a holiday, he said that he already knew the place and what will happen there. In 2008 he wants to the doctors, he took some epilepsy tests but everything was normal.
In 2010 was examined again, because this experiences of déjà vu didn't stop, and become more intense.
Academics from UK, Canada, France, came to study the case, but nobody knows for sure what happen and how this déjà vu started. Dr. Wells made a lot of research and she wanted to understand if there is any link between the clinical anxiety and this persistent déjà vu.
So this is just a strange story…or a boy trapped id a time loop?
More about time loop
There are two kinds of time loops as our scientists claim. One is a predestination paradox which occurs when events in the future trigger certain events in the past. The second one is the ontological paradox in which an object or information creates its past self or even becomes its past self.
But about paradoxes, I will talk in my next post because are enough to say and I don't want to confuse you now:)
There is a question here. The body or the spirit or let's say the consciousness loops?
When you are in a time loop, things are normal until a certain point and then the start repeating over and over. At that moment you memories are reset. You don't remember things. And the same things happen again and again…without ending.
It is possible our consciousness to jump in the past at a moment when something happened and we want to change it but…we don't have our memories so we don't know what we have to do? What if the dreams you have are from other lifeline and also your déjà vu?
Another time loops stories? Some real experience told by friends
A young college boy, a few years ago was sitting in the university parking in his car, reading a book for the next class.A city bus drive by, with only one passenger. A lady was passing the street with her dog, exactly in front of the bus.The driver shouts something but they are lucky and pass the street safely. The young boy, open again his book and read his lesson.
After five minutes the same scenario happens: the bus with one passenger, the lady with the dog, the shouting driver… This happens for a few times.Of course, the boy freaks out and he sends a text to a friend.His friend advises him to drive the car for a few minutes and come back. Fortunately, this helped and the loops stopped
Later on, something else happens to the same boy. Next day he put his alarm clock at a certain hour to wake him up. he wakes up but he things to have a few more minutes.he fell asleep again and he wakes up fresh. Looking to the clock…was the same time as it was when the alarm started. But ok…he wakes up…and that goes to gym.he look at his watch when he gets on the treadmill.The boy runs for a few minutes and then he stops to take a bottle of water. Looking at his watch…was the same time like he started the workout.Strange?
So, my friends do you have any other stories or experiences of time loop? Had anyone felt something like this?
I would like to hear your opinion and if you have any questions I am here to answer to you 🙂
Nice to have you here again and thanks for reading:)

If you are interested in this subject you may be like the posts below:)
Cristina