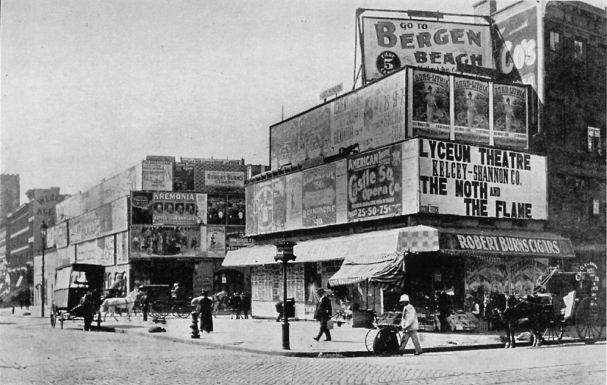 It is still a mystery today as to who is Rudolph Fentz.
It is June 1950, an usual summer day in New York. A strange man pops into Time Square wearing old fashion clothes and he is looking very confused. Witnesses are saying that he started to run with a shocked expression on his face but unfortunately the next minute, he is hit by a taxi.
Rudolph Fentz is wearing clothes that are out of fashion decades earlier and he also has Victorian mutton-chop sideburns. From the look on his face, it is clear that he doesn't know where he is and he looks scared from something he maybe saw. Maybe if he has the time to react and save himself we will know the truth in years to come.
Police report
When the Police examine the body of this strange man a few objects are found in his pocket and none of them show any signs of aging.
The officials from the morgue find the following:
Seventy dollars in old banknotes (nothing special if they didn't look relatively new)
A business card with the name Rudolph Fentz and an address on Fifth Avenue. After more research was done, the investigators discovered that this address was a business location but the owner didn't know anything about Rudolph Fentz.
A bill for the washing of a carriage and the care of a horse from a stable on Lexington Avenue that was not listed in any address book
A Cooper Token for a beer worth five cents from a saloon that was not known even from the eldest people in the area.
A letter sent to his address in June 1876 from Philadelphia
Later Research
Captain Hubert V. Rihm of the Missing Persons Department of the NYPD tried to find who this man was using the information he had on his person. He found out that the fingerprints of Rudolph Fentz were not registered anywhere. Nobody had reported him missing so he continued his research and he found a man named Rudolph Fentz Jr in a phone book from 1939.
Rihm when to this address and asked the residents in the building about Rudolph Fentz Jr.
He found that this person was a 60 years old man who moved after 1940 when he retired but nobody knew his new address. He worked somewhere nearby from what the neighbors told to the police captain.
Rihm contacted his bank and unfortunately Rudolph Fentz Jr. died five years previous. But there was one hope! His widow was still alive and Rihm went to see and to talk to this lady.
She knew a few things about her husbands family so Rihm found that Rudolph Junior's father had disappeared in 1876 when he was a 29-year-old young man. He just went for an evening walk to relax and he never came back.
So…of course the opinions were shared and some people tried to prove that this was just a story.
Non-believers
The story was published many times as a real fact until Chris Aubeck, a folklore researcher investigated if it is truth or just a myth. So in 2000 Aubeck, when a Spanish magazine published the story as a fact, claimed that the events and the persons are not real.
In 2002 Pastor George Murphy said that the Fentz episode is part of a novel written by Jack Finney (1911-1995) who published it on 15 September 1951 in the Collier's magazine.
Unfortunately no copy of the story 'I Am Scared' was found and Finney died before he had the chance to tell us the truth.
Believers
Some other people, real believers in the time traveler version of the story, wanted to prove that Rudolph Fentz was a real person and what happened was a real fact. So, in 2007 a researcher working for the Berlin News Archive found something that proved the veracity of this strange man's story. He actually found a newspaper story from April 1951, presenting the story as it is today.
This article was printed five months before Finney's short story. So, it is a possibility that Finney inspired his novel from a real fact? I personally think yes.
After this, a number of researchers found evidence of the real Rudolph Fentz. They also proved that he disappeared in 1876 at 29 years old.
My conclusion
So, if there was a real Rudolph Fentz… How did he get hit by a taxi in 1950? Maybe he was an accidental time traveler? I believe that he found a portal somehow and without understanding what was happening he found himself in 1950. But as we know, he was a business man not a scientist so he didn't expect this and he never understood what was going on.
The bad luck is that he didn't have the chance to tell us the truth, to tell us his story.
Maybe someday, another time traveler will warn him about the incident with the taxi driver and he will be alive… I don't know if this will be a good idea because of the paradoxes that can be created but at least we will know THE TRUTH.
Thanks for reading and for updates… I will be back.
Any comment you have or any questions, I am here to help
Cristina
 For more time travelers stories, videos click below