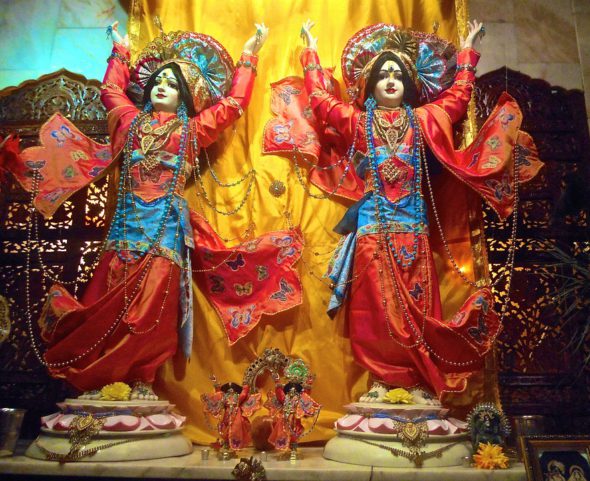 Today i want to talk to you about some ancient Hindu legends.Throughout history, there have been many suggestions with regards to time travel and these have dated as far back as the ancient times.
One of the ancient Hindu legends is the story of King Raivata ( or Kakudmi), mentioned in the Sanskrit Mahabharata.
The Story
King Raivata was descendent of the Sun Dynasty. He is the elder son of the one hundred sons of King Revata.
He was a good king, a remarkable leader, and father of a beautiful daughter, Princess Revati.
His daughter was so beautiful and skilled that when the time for her to choose a husband came, it was a difficult choice and in her father's eyes nobody was good enough.
The journey
King Kakudmi, although he was human, had the power to travel to the 'creator' Lord, Brahma.  Looking to find the right man for his daughter, he decides to take her and go to ask for Brahma's advice.
So, as the story says, he went to the Creator God. When he arrives there, Brahma is listening to a musical performance, so Kakudmi decides to wait. In a short time, he is then welcomed before the God Brahma.
He explains what his worry is and presents a short list of men as possibilities as future husbands for his daughter.
Brahma laughed and told him that the list is useless because as long he is with him, many thousands of years are passing on earth (108 yugas) and nobody he knows will be alive that he knew upon his return.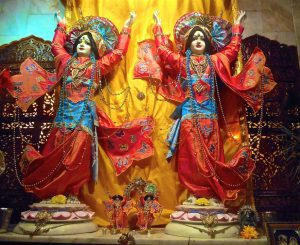 Shocked and scared King Kakudmi doesn't know what to do, but Brahma gives him a solution. He says that Vishnu (the supreme god, the preserver- in Hinduism) was reincarnated on Earth in the forms of Krishna and Balarama.
He recommends Balarama as a good husband for Princess Revati.
They return to Earth and everything was like the God had said. Everything was completely changed. He is shocked how much mankind itself has changed.
He mentions that men are weaker, shorter, have a lower level of intelligence and lower level of development in a spiritual and cultural way. The wedding takes place however and the beautiful Princess marries Balarama.
After the wedding, King Raivata travels north to the Himalayas to live in peace and to engage in meditation until his final days.
The Mahabharata
The Mahabharata was written around 700 BC and mentions, this time travel incident, but more frequently the time travel concept. Multiple universes are also mentioned in Vedas and other Purana manuscripts.
It is said that what scientists have discovered from the nineteenth century until today was a well-known tale for the Hindus..
After much research, Einstein, Stephen Hawking, and Dr. Michio Kaku have found out that their findings have already been written a long time before in the Hindu scriptures.
The multiple universe theory is mentioned in Patma Purana, Vishnu Purana, Atherva Veda and other Sanskrit.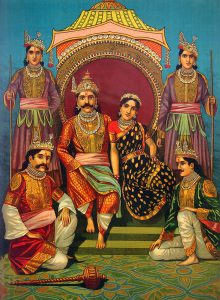 One of the First Time Travel Stories
The legend of King Raivata is one of the very first original time travel stories.
An interesting thing that we can observe here is that the Hindus we aware of time relativity. They had the same idea about time and space as our scientists have now and as Einstein has in his theory of relativity.
So, looking at this story we can assume that the King and his daughter were one of the first time travelers?
I know this is just a myth or some may say even a story, but I think in every story is an element of truth.
 One more legend
The legend of King Muchukunda,son of King Mandhata has also elements of time travel and i would like to share his story with you. In a battle between dieties and demons, demons were wining so dieties asked King Muchukunda for help . He agrees and he was fighting demons for a very long time, untilanother comander, able to continue the fight, was found.When dieties found Kartikeya, son of Lord Shiva, They told King Muchukunda that they are greatful for his fight and sacrifices, familily life , time. they explain him that one year in heaven equals three hundreded years on earth and his family and everything he knew was gone. they asked him how can they thank him for his help. being very tired,not having the time to sleep all this time he just asked to be left to sleep and anyone who dare to disturb his sleep to e burnet to ashes.Indra, the King of dieties accepted and send his on earth ,in a cave to just sleepwithout being disturbed.
Many years later, another worior king,Kalayavan, brave and undefeted  but also cruel  and with no merci for his people finds out that the only one who could win him in a battle would be Krisna. Kalayavan decide to attack Krisna in M.athura ,his kingdom. Following krisna, kalayavan enters the cave where Muchukunda was sleeping . As we know who dared to wake Muchukunda up shall be ashes. Kalayavan entering in the cave , was very dark and he though Muchukunda was krisna.and he attacs him. unfortunatelly when muchukunda open his eyes,kalayavan is burnt imediatwely. by his gaze. until this days the river which flows near that cave is called Muchukunda River.
What do you think? Have you any knowledge of these times?
I really think that to create a story about something like this something must have happened and something must have inspired it.
I would like to know your thoughts about it, so leave a comment below and I will get back to you.
Thank you for reading.
Cristina
Click Below For Further Reading