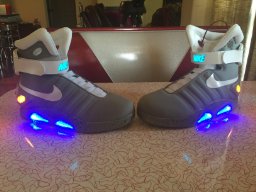 Do you remember the 'Back To The Future' movies? Of course, you do 🙂 In the 1980s and 1990s these movies dominated the cinema houses around the world and captured the attention of millions of people.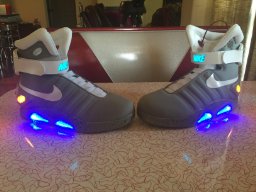 In the second film of the trilogy, we saw the character Marty McFly wearing his futuristic shoes and most of us if not all said WOW.So I will write a small review about Back to the future trainers.
How many of us were then left wondering if we could buy shoes like this or would they ever exist even?
Well here is the future! These shoes now really do exist and they are great, comfortable and unique.
These 'Back to the Future' shoes are very similar to the ones in the movie, and for sure you will make an impression whilst wearing them.
Many people will stop you on the street, they will admire them, and be amazed and curious where you have obtained them from 🙂
Question
 One of the most asked questions is, do they really light up like they do in the movie?
Well, the answer is yes, they do!
I can tell you for sure, they light up and have a battery life of over 5 hours so that's good news, isn't it?
Some of you are probably worried if they are suitable for children. Well, they certainly are but there is one thing to be aware of.
This footwear is not designed for general every day use and constant wear during children's activities could lead to early unwanted damage. They are basically a costume style shoe.
Self Auto Laces
The Self-Lacing system is not in place for this particular brand. The technology has been developed and shoes will be going on sale in the future, but as it stands at the time of writing, they are not available.
 Are They As Expected?
 As I have said, they are very similar to the original ones are shown in the movie.
They come in grey and white colours and they have an adjustable Velcro strap around the ankles with elastic on the top of the shoe.
The shoes light up just like in the film in the bottom clear part of the outer sides and are operated by wires with a tiny switch in the ankle area.
A double split micro HDML cable is included to charge both of the shoes simultaneously in the box. Even though there are no instructions, it is not difficult to see how to connect them to charge.
Negative Points
Unfortunately, there is no Nike rubber symbol on the flaps but you can buy them separately from e-bay and attach them. A lot of buyers have done this and they say it looks great.
You don't get the Nike symbol because they are officially licensed by Universal Studios.
Most of the people that bought this product are satisfied. They said it is exactly what they expected. You can take them at a reasonable price too at around 100 dollars.
You can take also a strap upgrade, lighted, and they look amazing.
It has been recommended by the people who have bought them to take a size bigger if you have wide feet.
Latest news
In late 2015, Nike announced that they will be releasing the hyper-adapt 1.0, a self-laces edition of these shoes, in which sensors on the bottom will register the weight of the wearer and once they read the position of the foot inside, a series of pulleys will contract the upper part of the shoe.
So, they are real and you will be able to adjust how tight you want them by pushing a plus or minus button.
The first pair has already been sent to Michael J Fox who plays the lead role in the movies, and they are a limited edition only at this moment in time…but…Great Scott:) they are exactly like in the movie.
They will be available soon only via auction and with all proceeds going to the Michael J. Fox Foundation for Parkinson's Research.
Why buy them?
The only reason to buy them I think is for the fans of the 'Back To The Future ' movies and for people who are already familiar with the shoes to own a piece of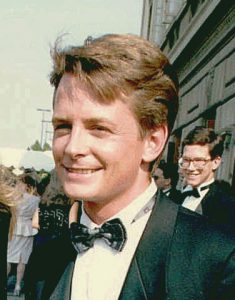 history.
They are THE MICHAEL. J. FOX shoes from the future.
Who would think that what was just in the writer's imagination at that time today is a reality?
If you look, most of the ideas from these films have seen reality. Self-lacing shoes are coming, self-adjustable jackets, hoverboards, and other items are now available for us and… they are all very real.
So, except the fact they are a very cool and comfortable trainer, you will have a piece of history in your home. For me and I think for many of you, they are priceless.
I assure you that as soon as I have news about the new self-lacing edition, I will inform you.
Have you purchased a pair of these shoes already? If so what do you think of them? I would love to hear from you.
Thank you for reading and any comment or questions are welcome.
Cristina
If you are a Back To The Future fan you are sure interested in the articles below.