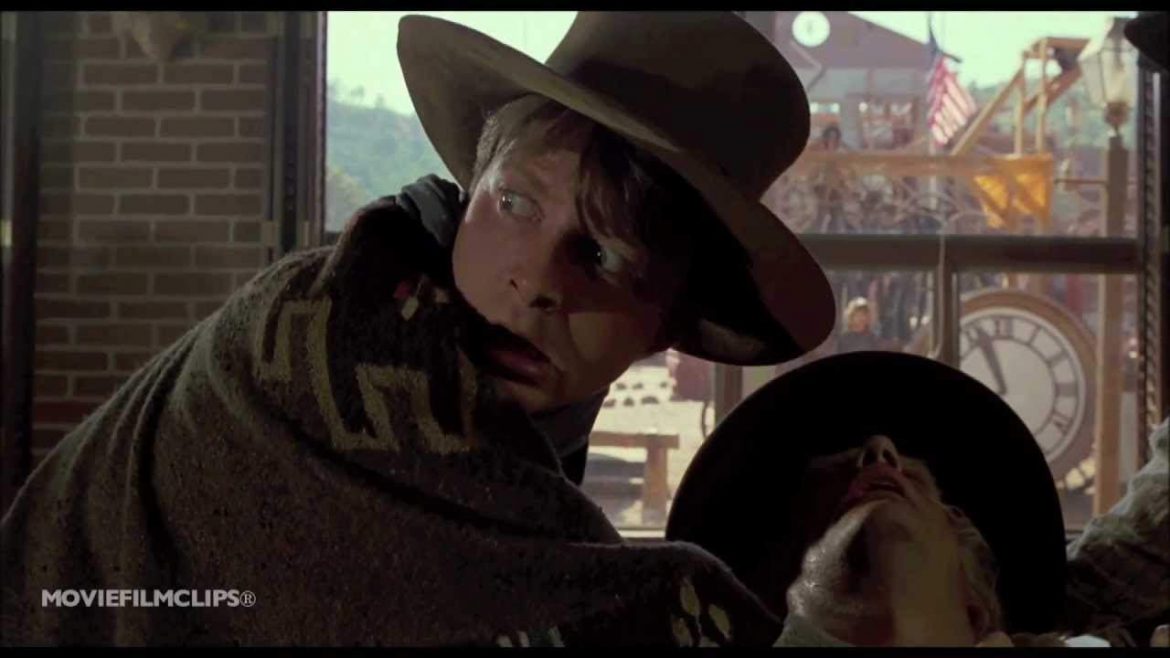 Hello, time travel fans 🙂 I have just watched Back to the Future 3  movie and I thought you would like to read my review about it.
Every time when I see a film from this trilogy – I have a wonderful time. This movie always gives me a good laugh and as many times as I have seen it, I never get bored of it.

A few words about the film
The third part of the Back to the Future trilogy was released on 25 May 1990. It was directed by Robert Zemeckis and produced by Neil Canton and Bob Gale.
The screenplay was written by Bob Gale and the writers were Bob Gale and Zemeckis.
The music was composed by Alan Silvestri and it won the Saturn Award for Best Music.
The movie won also the 1990 Best Supporting Actor for Thomas F Wilson and in 2003 AOL Movies DVD Premiere Award for Best Special Edition of the year
Very successful, the film made 244.5 million dollars worldwide with a budget of 40 million.
But let's see this time what Marty's adventure was 🙂
We go back to 1955. Marty McFly finds out that Doc Emmett Brown is trapped in 1885 from a letter that the scientist sent him with a Western Union courier.
Trying to save him, Marty and Doc from 1955 (again I confuse you:-) use the letter to locate the DeLorean and try to repair it. They see a tomb with Doc's name on it and they find out that Dr. Brown was killed six days after the letter by Biff Tannen's great-grandfather Buford 'Mad Dog Tannen'.
Marty decides to go back to 1885 to save him.
Back in 1885…. The Wild West
Marty travels to 1885, on 2nd September when an American cavalry was chasing Indians.
His DeLorean runs out of fuel and Marty hides it in a cave and walk to Hill Valley to find Doc.
On his way, he meets his Irish Great-Great Grandparents, first generation in the USA, Seamus, and Maggie McFly. Marty tells them that his name is Clint Eastwood and Seamus agrees to help him to find his friend, Doc, who is working as a blacksmith.
Marty also has a confrontation with Buford and his gang and when he is ready to be hanged by them, Doc saves him.
Dr. Brown agrees to leave 1885 but there is a small problem 🙂 The gasoline is not available yet and the DeLorean couldn't reach 88 miles per hour to power the time travel circuits.
Dr. Brown comes up with a plan to use a train locomotive to push the DeLorean until it reaches the required speed.
While exploring the rail spur they wanted to use (actually a broken bridge) Doc saves a lady, Clara Clayton, from death and they fall in love. Later on, at a town festival where Doc is dancing with Clara, Buford tries to kill him, but Marty saves him. Buford provokes Marty to a fight with the guns in two days, first light in the morning.
Doc advises him to not get mad about being called a chicken, yellow or anything like this because this will cause him an accident in the future.
Looking to the photograph of Doc's tomb, his name disappeared but the date was still there. This means somebody will still die at that time. Dr. Brown tells his friend that he may be the one that Buford kills.
They plan to leave as soon as possible when the next train is coming which is exactly in the morning when Buford was waiting for Marty at the local bar to fight. The night before Doc and Marty place the DeLorean on the rail spur preparing everything for their departure.
Doc went to Clara to say goodbye and he decides tot tell her the truth, the real reason why he is leaving. He tells her that he is from the future but she thinks that it is just a stupid excuse to not see her anymore, that he is making fun of her, taking advantage of the fact that she was an admirer of Jules Verne's fantasy books. She gets really angry.
Sad, Doc went for a drink in the bar and spends all night there talking about the future, but not drinking. In the morning, Marty is looking for him when he finds him and convinces him to leave together to 1985.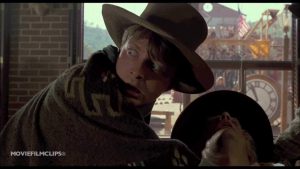 One single shot of whiskey took Doc and he passes out. Buford calls Marty to the duel outside but he refuses. Finally, after drinking a wake-up juice, made from the bartender, Doc revives and tries to take Marty to escape from 1885.
Buford's gang captures Dr. Brown trying to make Marty to fighting. As in the other 2 films, Buford (Biff) is knocked into a wagon full of manure and he destroys the tombstone. After this, he is arrested for a robbery.
Mission Completed. Back to 1985
The mission is complete and the two friends are ready to go back home, but they need to 'borrow' the locomotive to push the DeLorean.
Now, what happened with Clara?
Angry, she decides to leave the town. On the train, she overhears a man talking about the night doc had, and saying how heartbroken he was because of a woman named Clara. She stops the train and runs to find him but when she goes to his place she finds only his time machine model.
Clara understands that he was not lying and tries to find him. Marty and Doc were pushing the DeLorean when she finds them, and she jumps in the locomotive. They were trying to reach 88 miles per hour to leave but when he saw her Doc tells her to come to him towards the front of the train towards the DeLorean.
As she climbs, Clara falls and hangs by her dress and Doc goes to help her. With the help of the hover board, they are both saved when the locomotive falls from the unfinished bridge but Marty goes back to 1985 without his friend because they don't have time to reach the DeLorean.
Arriving on 27 October 1985, the car is destroyed by a train coming on the same bridge, now finished, one hundred years later.
He goes to Jennifer's house and finds her sleeping just as he left her in the last adventure, on her front porch.
Marty learns his lesson, from 1885, not let himself be provoked by the word Chicken. When Douglas J. Needles tells him to go for a race, he remembers the accident he had, from 2015, which we saw it in the second film, Back to the Future 2  and he avoids the race.
When Jennifer looks at the paper she had in her pocket with the word Fired, the word erases and she understands that the adventure they had in 2015 was not a dream after all.

Marty takes Jennifer to the time machine, what was left of it anyway, and a locomotive with a flux capacitor appears, with Doc, Clara and their two children Jules and Verne on board.
Dr. Brown gives Marty a photo with the two of them by the clockworks in 1885 at the night of the festival and when Jennifer asks about the fax and if Marty will lose his job, he says that the future is not yet written, that we make out own future.
After this short visit, Doc disappears with his lovely family somewhere in time 🙂
Did you know that…
The idea of the western theme for the Back to the Future 3 came to Zemeckis during the filming of the first movie, Back to the Future 1, when he asked Michael J. Fox where he would like to time travel most, and he said he would like to go to the Old West to see the cowboys
The filmmakers built the 1885 Hill Valley from the beginning and the western scenes were filmed in Monument Valley.
And some things that for sure you don't know
The design in Marty's shirt (the embroidery) has two symbols for atomic energy on the chest.
When filming the scene where Marty is hanged by Buford he was accidentally hanged to the point to pass out and everybody thought was just an excellent acting.
The DeLorean time machine used in the movie is hanged upside down on Planet Hollywood.
Doc Brown tells Marty that his origin is from the Von Brauns but when they came to the USA, because of the 2nd World War they change the name to Brown. Wernher von Braun was a German scientist which assisted the Americans in 1950 in their journey to space and who designed the rocket V2 of the Second World War.
M.R. Gale was the newspaper editor in 1885 in Hill Valley, and Buford Tannen shot his predecessor. His name is a reference to the name of the writer Bob Gale
Bob gale said 'In trying to figure out Part 3, we decide that we've done everything we could with Marty's family; let's concentrate on Doc and let's do the most insane thing anyone could imagine – Doc Brown in love. In fact, Back to The Future3 it was Christopher Lloyd's first onscreen kiss.'
 Casting
 Michael J. Fox – as always, the only Marty Mc Fly
Christopher Lloyd – as the unique Dr. Emmett Brown (Doc)
Mary Steenburgen – as Clara Clayton
Thomas F.Wilson – as Bufford Tannen, Biff
Lea Thomson – as Maggie McFly and Lorraine McFly
James Tolkan – as Marshal James Strickland
Elisabeth Shue – Jennifer Parker
Jeffrey Weissman – as George McFly
Flea – as Douglas J. Needles

I hope you enjoyed my review and I am sure you will have a Back to the Future marathon night soon 🙂
Thank you for reading and any comments or questions you have are always welcome.
As a Back To The Future fan I am sure you will also like: