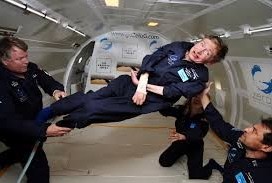 We just can say Rest In Peace for this great mind, exceptional physicist. Stephen hawking died at the age of 76, the same day when Einstein was born. It is a coincidence or The Universe plays his role in humans fate? We just know he died peaceful, at Cambridge, in his home. He was born in the 300 anniversary of the death of Galileo and died on Einstein's birthday. Any opinion about this?
A Few Words About This Legendary Man
Stephen Hawking was a physicist, cosmologist. He was born on 8 January 1942 in Oxford. His parents (Isobel and frank) despite their economical problems, both studied at Oxford University. His family placed the education at a very high value.
I will not tell you a lot about his life history just that he let us a legacy of a huge importance.
He was Director of research at the Center Of Theoretical Cosmology at Cambridge University. He was also author of some great books. His book" A brief History Of Time " broke the record for sales in the last 237 weeks. he was well known for his theories about black holes, and relativity. He believed in many worlds' interpretation .
Stephen hawking suffered from a very rare slow progressing form of ALS ( amyotrophic lateral sclerosis) which paralyzed him. Doctors were surprised to see him with this health condition leaving until this age. His disease and the idea that he could die made him to think that are many things to be done in life. He become the great scientists we known he claimed that before be diagnosed with ALS his life was boring. Wonderful way to see the life, to let something important behind you.
A few words about this great man from his children ( he had three children) Lucy, Robert and Tim.
" He was a great scientists and an extraordinary man whose work and legacy will live on for many years."
He was considered one of the Isaac Newton successors and as a Lucasian Professor of mathematics at Cambridge University he was searching for a "Unified theory" .
His beliefs
As I said in a previous post about mars, he believed that the earth is too small for us and in the next 100 years we should colonize mars, we should find another HOME.
Check this video and you will see what is his opinions about black holes and time travel
In 1974 his research about black holes showed that the black holes are not what scientist believed, a vacuum of information. he demonstrated that matter can escape the gravitational force of a black hole, in the form of radiation.
Roger Penrose was another cosmologist interested in black holes and the Creation of Universe and Hawking and him worked together on penrose earlier discoveries.
What were his theories about the beginning of Universe and what was before the Big Bang? In 2015 he stated in a conference that before the Big bang was NOTHING.he claimed that the history of Universe started as a four dimensional curved surface with no limits.
Hawking shows through his work that time travel is possible. He said that a single unifying theory can combine quantum mechanics with cosmology .
In july 2015 In a conference in London,. Stephen Hawking revealed the launch of the Russian founded project Breakthrough Listen which had the purpose to discover more details about the existence of extraterrestrial life.
His books
Stephen hawking wrote about 15 books. I will mention them here for those who are interested in his work.
In 1988 "A Brief History Of Time" is a book which had a great success, was translated in over 40 languages and sold millions of copies worldwide. In this book he offered an interview of space and time, future and the existence of god. It was a short informative book for everyone, not only scientists. In 2005, he wrote a more simple edition of " A Brief History Of Time" . he simplified the earliest information and also mentioned his new discoveries about the string theory.
In 2001, he wrote " The Universe In A Nutshell" which was an illustrated quide of Cosmology's theories for everybody to understand.
Talking about the idea of God creating the Universe in 2010 Hawking wrote the book "The Grand Design". he claimed that the Big Bang was just the consequence of the law of physics
Hawking and television
I don't want to make you tired with many details, you probably find everything detailed in Wikipedia, I just want to write a few TV shows and movies where Stephen Hawking had his part.
He never lost his humor despide his health situation .Stephen Hawking played in a few films : The Simpsons, Strar Trek, " Late Night" with Connon O'Brien and The brain.(2011). He played also a with Jim Carrey in a commedy.
On The Pink Floyed song Keep talking, he recorded over, his voice. In 2012 he had a part in the commedy Tv show, The Big Bang Theory. The latest one and my favorite is genius where he explain his opinion about time travel.
Hawking's dream- space travel
In 2007, Stephen Hawking was visiting the Kenedy Space Center and at the age of 65 he tryed the non gravity . he was freed from weel chair and he was flooting and enjoying the freedom. He loved it. He said " The Zero G part was wonderful and the high G part was no problem. I coulod have gone on and on. Space, here I come!"
 My thoughts
I just want to say a huge REST IN PEACE and THANK YOU FOR YOUR LEGACY. I apreciate his will to leave, his genius and the way he lived his life, despite of so many problems. I always admired his work, i read his books and I think was a real genius.
For me he will always be an inspiration for my work and my research . So I would like to hear your thoughts and any comments are welcome.
Galileo dies , after 300 years Stephen hawking is born in the same day.
Einstein is born and in the same day Hawking dies. Genius dies, genius is born and genius die. An universe cycle.
 If you are interested in  his theories, in black holes , Einstein and similar things, click below and you will find information.
Thanks for reading
Cristina