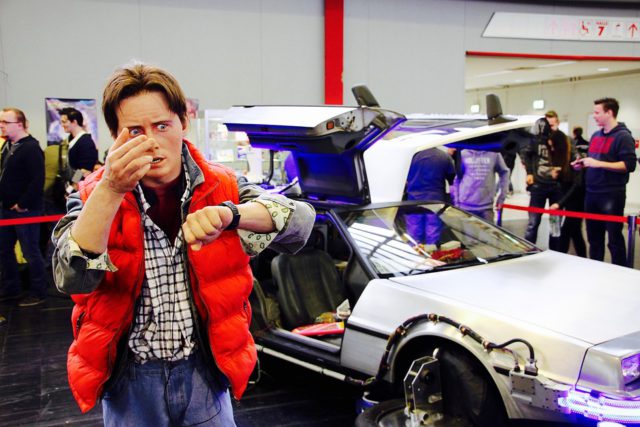 How many times have we heard from our parents in the past talking about their childhoods? How many times have we heard them saying 'when I was at your age' etc
Well here is my Back to the Future review which discusses this topic in more detail.
I think a lot of us would love to be able to take a look into the past to see our parents when they were younger, just to see if all the stories they are telling us are true.
Did you mother really behave this way? Did you father ever actually do these things?
Well, this is exactly what gave writer and producer Bob Gale the idea to write and produce what would become one of the most successful science fiction, adventure and comedy movies ever to hit the screens.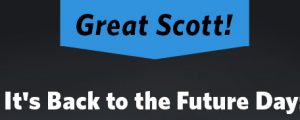 This movie was to be the smash hit 'Back to the Future'
His thought process was to be able to go back in time and be at school with his father, to hang out and be friends. This all came into his mind during a visit to his parent's house in St Louis Missouri.
The Storyline
A young Marty McFly is a teenager living in Hill Valley California with his father George and his mother Loraine McFly. He also has brothers and sisters and a girlfriend Jennifer Parker.
Marty's father is bullied by his supervisor Biff Tannen. He is a weak man and his mother is an alcoholic and overweight woman.
Marty meets his friend and crazy scientist Doc Brown on 26 October 1985 at a shopping mall parking lot in the early hours. Doc reveals his new invention, a time machine made from a DeLorean which uses plutonium for powering the time circuits. Doc Brown has stolen the plutonium from some Libyans who are seeking revenge.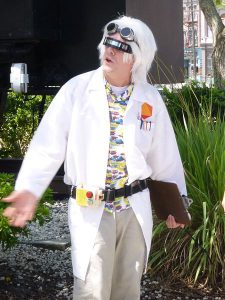 After a successful demonstration of the time machine the Libyans arrive in search of the Doc and kill him for the theft of the plutonium.
Wanting to escape, Marty uses the car and manages to land himself back in 1955, but without plutonium to make the journey back.
There he meets his father, George as a teenager, and saves him from being bullied by classmate Biff. While trying to save George, Marty is hit by a car and knocked unconscious. Later he awakens in Loraine's house (his mother as a teenager) who takes an instant liking to him.
Trying to figure a way to get back to 1985, Marty finds Doc Brown 30 years younger and asks for help. However, without plutonium, the only source of electricity capable of powering the time machine is a bolt of lighting.
According to a flyer from 1985, a lightning strike at the town's courthouse is due only a few days away. So this was their only chance.
Marty tries to tell to inform the Doc about his future death from the Libyans but he refuses to listen to anything about his future. He makes it clear that nobody should know about their own future. Marty later slips a secret letter into Docs jacket pocket telling him of the future events.
Marty understands that during his stay in 1955 he has interacted in a manner that can be detrimental to his own future. He has interfered with the natural course of past events. He has also prevented his parents meeting and falling in love.
Doc tells him to do everything he can for them to get together, because if not, Marty would cease to exist.
After a few failed attempts to get George and Lorraine to go to the school dance, Marty finally forms a plan to get them together.
His plan is for George to save Loraine from Marty's inappropriate behavior in his car but the plan goes wrong. Instead of Marty, George finds Biff in the car after a previous small struggle.
Finally, George finds the courage and knocks out Biff and finds the respect and love of Lorraine. She goes with him to the ball, they kiss and everything comes back to as it should be.
Marty then leaves to meet Doc at the courthouse clock tower as the storm is approaching, and with the help of the bolt of lightning, he goes back to 1985.
Surprisingly on his return, he finds the Doc is alive and well after the incident with the Libyans. He had a bullet-proof vest on and had taken precautions after reading Marty's letter from 1955.
Marty wakes up the next day and his family is completely different. His mother is fit and not drinking, his father is a strong character and Biff was now cleaning his car. Everything is better due to the events and advice from 1955.
He meets his girlfriend Jennifer outside and at that moment, Doc arrives with the time machine and takes then to the future. This final scene sets up the sequel 'Back to the Future Part Two', where issues need to be dealt with concerning their future children.

Behind The Scenes Information 
The first writings of 'Back to the Future' were completed in February 1981, but for the next 4 years, the film would be rejected for different reasons.
Columbia Pictures stated that the script was not sexual enough and Disney said it would not be appropriate for a family movie because of the mother and son relationship.
So, Dale and the director Robert Zemeckis found a lot of obstacles. Later, after Zemeckis had big success directing the film 'Romancing the Stone', Spielberg accepted the 'Back to the Future' concept.
Under the direction of Robert Zemeckis, the movie was first released on the 3rd July 1985 in North America on 1200 screens. One year later it was released on VHS.
It proved to be a great success worldwide making $383.87 million and was the top-grossing film of the year.
Who Was Involved?
The first choice for the role of the teenager Marty McFly was Michael J. Fox but there was a little problem there. M.J Fox was already committed to the show 'Family Ties'
Two other choices were C Thomas Howell and Eric Stoltz, but after few months of filming, they decided to recast, considering that the only person for this role was Michel J. Fox. No one else could portray this character as well.
Of course, in the role of Doc Emmett Brown was Christopher Lloyd who really brought to life a wonderful character.
In my opinion, all the cast were amazing. All of them played excellent roles. Lea Thompson (as Loraine Mc Fly), Crispin Glover (as George Mc Fly), Thomas F. Wilson (as Biff Tannen), James Tolkan (as Mr. Strickland) are just a few of the excellent talents involved in the movie.
The music was also fantastic and is considered a grand and epic performance by Alan Silvestri.

Great Awards…
'Back to the Future' won the 58th Academy awards for best sound effects.
The Power of Love was nominated for best original song and Zemeckis and Gale were nominated for the best original screenplay.
The movie won the Saturn Award for best science fiction film and the Hugo Award for best dramatic presentation.
Also, the film was nominated for a lot of British Academy Film Awards
(Best film, original screenplay, visual effects, and production to name a few)
Michael J. Fox also won the best actor category at the Saturn Awards.
At the Golden Global Awards, the film was nominated for best motion picture, best actor in a motion picture (Michael J. Fox), original song (the power of love) and others.
In my opinion, this film is one of my all time favourites and it really will stand the test of time.
Have you seen this film? Do you have any thoughts about it? Maybe it is also one of your favourite movies also?
If you have something to add I would love to hear from you. Just leave a comment below 🙂
What next?
After the famous trilogy would you enjoy the 4th episode? Christopher Lloyd, now 78years old admits that he would enjoy doing one more time Doc but only with Michael J.Fox.He said that he would=do it only with the original team and if the story was the same amazing.Doc said that will be a challenge for the writers to make a story the same interesting and captivating with 'the same passion and intensity and excitement as the other three.But it could be done you never know.'
Michael J. Fox is suffering from a difficult disease, Parkinson but Christopher Lloyd said that he could be still wonderful in another 'Back To the Future'movie and of course he admitted that he couldn't imagine this film without him.
Anyway, Bob Gale, the writer went said that he doesn't want to make the 4th part so My opinion is to let the things like this and this make them classical and original:) What do you think?
Thanks for reading
For Back To The future fans I am Sure you will also like:
Cristina.