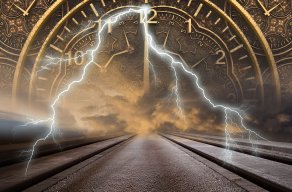 We all want to know and hope to be real that TIME TRAVEL is possible. I have here for you some true time travel stories that make us think…It is possible, it is true?
Al Bielek -Montauk Experiment and time travel
I think most of you had heard about Montauk Experiment but how many of you know about Al Bielek?I know there are many different opinions if time travel is possible or not, and most of the scientists say that is possible but not for the humans, not yet. This man, tells us something that for sure will make you think.
So, Al Bielek told us many things about the Montauk and Philadelphia Experiments. Montauk, as we know, was a secret governmental experiment conducted in Long Island. Many books and articles were written about it. Bielek claims that his job was to operate the Mind Control Program and he was in permanent contact with Preston Nicolson and  Duncan Cameron, two important scientists involved with this projects.Bielek reveals that one of the Montauk Boys which was working as a programmer, under his command was Stewart Swerdlow.
He is a scientist so why he would be a scam? Why such important persons as Bielek, Duncan, Basiago will lie?
Bielek said that he travelled to Mars with Duncan for a few times, he took part also on a trip with his team in 100000 BC to a research station and also he travelled in 6037.
Bielek took part in a few experiments so he reveals us how he spent six weeks in 2137 and two years in 1749. He spoke about some things that already happened and his story is fascinating.A lot of people don t believe his statements but I wonder if is possible to lie about things like this such an intelligent man? I personally believe him.And you know what? It is more probably to hide something like this from people than to lie that time travel was real. What do you think? I will try to find for you a video with some of his statements and then, just think and tell me what do you think. Listen to the video and see how was or it will be the society in the future.
In a future post, I will talk more detailed Al Bielek's statements and discuss them with you if you want to.

And now I will tell you more situations that proved us that time travel is possible. Maybe is not yet invented the time machine, maybe scientists are still working but what if time loops just happen, if you just find a natural portal, that, of course, we don't know and can't be seen?
1935 pilot flyes to the future
Sir Victor Goddard, an Air Marshal of the British Air Force in 1935 was a wing commander and was flying to his home Andover (England) from Edinburg,(Scotland). At some moment, at Drem, near Edinburg, he decided to fly over an abandoned airfield, overgrown and were in the past, planes landed, at that moment cows grazed on the hangars were destroyed.Soon a stormed started. In the powerful winds, Goodard lost control of his plane which, nearly crushing start to spiral to the ground.The experienced pilot couldn't do anything but he realized his plane was going back to Drem. When he was above the airfield the storm stopped and the sun was shining. The abandoned airport now was totally different, four planes were parked on the airfield, the hangars were new. Three planes were yellow, not used in 1935 colour for planes and the fourth one was a monoplane and RAF didn't have such planes in 1935. Another wired thing was that the mechanics were dressed in blue uniforms, strange because the colour he knows the mechanics' uniforms have was brown.
Anyway, we made his way back, he passed again the storm and he arrived home.A few years later, in 1939 RAF changed the mechanics uniform in blue colour and start panting the planes in yellow.So…was this a short journey in the future?
I am sure maybe you read a lot of time travel stories but when you see so many cases, from totally different periods of time and different places, you start thinking that somewhere, something is true. Why in 1935 a professional and experienced pilot to lie about his story?
Anyway here we have another few cases so have a look.
1969 driving in the past
So…was October 1969.Two men. L.C. and Charlie his business associated were driving on highway 167 to Lafayette.The road was almost empty and as they were driving they saw an antique vehicle, very slow and they overtake it.They were surprised and impressed about the perfect condition of the old car, looking like new. they slowed down to see better car thinking that it took part in some antique show.
When they had a closer look, the car was driven by a woman that seemed scared, panicked. She was dressed in 40′ vintage clothes. They could see also a small baby with her. L.C. asked her if she needed help and the woman said yes. Then the two men pulled off to the side of the road to help the lady. When they got out of the car, the old classic car disappeared.
So…how did this happen? You see this make me think something is true here.
The man from Laxaria
In 1850, in Germany, Jophar Vorin, was caught and questioned.He spoke Germain but very broken and was very difficult to understand his statements.Anyway he claims that he was from Laxaria and he was looking for his brother, lost a long time before.
When he was showed a world map to point Laxaria he didn't recognize the maps. He said that the world map had five sections: Sakria, Aflar, Aslar, Auslar and Euplar.
John Timbs, wrote in the  Year-book of Facts of Science and Art that Vorin really existed, he was questioned and studied in Berlin but my question is what happened after, with him. Where did Vorin go? Was he from a parallel world line, was from a distant future or just crazy?
There are many other stories like this so I don't think you can say 100% that Time Travel never happened, can you?Listen some more 🙂
British couple's slip from 1979 to 1900
So, just a simple vacation in the north of France.Two British couple were looking for a hotel, a place to spend their night.They saw a place that looked like a motel but they were told by two men that was an inn and that a hotel was just down the road. On their way, they saw some strange signs for an old-fashioned type of circus.
Later on, they found the hotel, an old fashion building, with heavy wooden furniture and no phones. The rooms had no glasses but wooden shutters and no locks but wooden latches.Anyway, they said is an old-fashioned hotel. the night passed and in the morning they went for breakfast.At that moment two gendarmes entered the room and the couple asked them some directions to Avignon. The two men, wearing old-fashioned uniforms gave them finally wrong instructions. The couple paid the bill to the hotel, a strange amount of only 19 francs and continued their journey.
On their way back they decide to stay in the same very cheap hotel but they couldn't t find it in the very same spot. When they arrived home, trying to develop the photos taken at the hotel, was nothing in the film, and after a small research they found out that this kind of uniforms gendarmes had in 1905.So, what really happened there?Where just vanished this hotel?
But as we know time is not linear and some strange events prove that people time slipped in another dimension. Is this possible? Just read and tell me.
More stories
Time Loops
One story was told by a lady, a mother of a baby boy . was a regular evening, she was fixing the laundry in her room, near the baby's room. her husband and her baby were relaxing in a lazy boy chair and she could see them. At some point, she hears strange sounds from the baby monitor, from the child room. Was a simple baby monitor, not recorder or something, and the sound could happen only at that moment.
Earlier that day she was cleaning the baby's room, picking up the toys and in the same time she was telling to the boy a story,'Jack and the Beanstalk' for the first time and he was laughing and answering in baby talk. So, when at that night heard her voice telling the tale, and the baby's voice, she just couldn't believe. She called her husband which was holding the boy and he also heard her voice and the baby's  talk through the monitor and both of them were like shocked.How could this happen?
Was this a strange story that makes you think there are other dimensions and accidentally we can travel through?
I will tell you one more story heard from real people and you just decide what is real and what not:)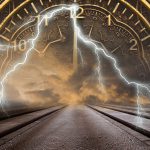 There was this lady, living with her husband in the deep woods of East Texas and she had been having some medical tests in the hospital.Anyway, three days in a raw she had the same routine ,she was parking in front of the hospital, in the small parking lot, walking through the double glass door leading to the first floor, turning right at the gift shop and than going to the reception to sign in and having a small chat with the receptionist, a young blond woman.There was also a small sitting area where she was waiting, in front of a lab. the door of the lab was always open and she could see the patients, sitting in the same positions, and the same type of chairs and colour that were a year ago when her mother was having her chemo.
She heard a patient making a coment about the 'new chairs' and a nurse answered him that the oncology department donated them.
Last day she went for the tests results, this time with her husband. The usual routine, parked, walked in, turned left to the gift shop and then she stopped shocked. there was no waiting- area, no reception desk and blond girl, no lab. In the place where was the lab door now was a wall. A doctor passed and saw her very confused and asked how he can help her. The lady asked where is the place where she checked in for the tests because she wanted her results. laughing the doctor told her that the reception moved at the second floor three years earlier.
So what really happened?
There are many events like this many stories real people tell and f you want more…just tell me. To be honest, what do you think is true about all this? There is somebody here who experienced something similar. a time slip ?if yes, tell me about 🙂
Thank you for reading and see you soon for more info:)
Click Below For Further Reading